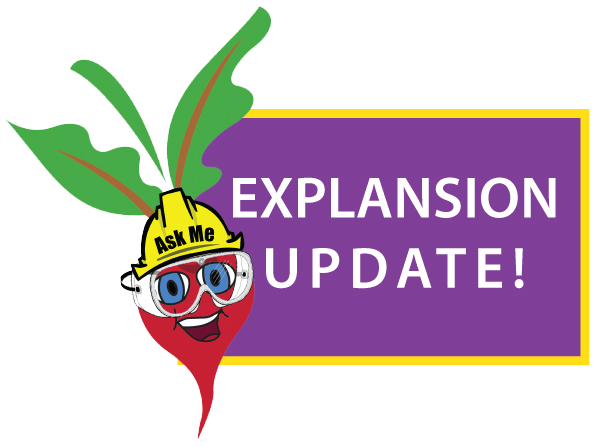 Stay up to date with Expansion news by joining our LFC Hard Hat Happenings Facebook Page!
 2/21/17
Feb 24th – Fire chief to review building for life safety items on Friday.
Feb 24th – Metal roofs for buildings installed
Metal Railings for Mezzanine installed and painted.
April work dependent on thaw: pavilion roof, solar panels, car charging, landscaping, green screen, concrete bench installation.
Shelving being installed.
February 28th – Admin offices moving from across the street
March 6th – Certificate of Occupancy
March 13th Department signage installed.
Sunshade, ladder and planter installed.
Sidewalks: South sidewalk tented and heated. Integral concrete ongoing.
Existing Building:
The dry sprinkler system will be installed in the existing store next week.
2/20/17
Pavilion steel erected.
Sidewalk to be completed within the week.
Painting begins. Employee lockers will be built and installed after painting is complete.
Toilet Partitions being set-up
Railings for mezzanine being installed
Lighting installation continues
Lighting Designer will be on-site to finalize focus lights.
Shelving will be complete on 2/22.
February 24th – Certificate of Occupancy
February 28th – Admin staff move into new building
March 6th – Registers and products move into new store
The dry sprinkler system will be installed in the existing store next week.
1/26/17
Roof steel coming later this week.
Concrete floor polishing starts Monday 1/30 and runs thru 2/3. No entry allowed!
New coolers installed in existing store next week (demo time)
New lighting, overnight install starts Monday, in existing store. Continues for next five weeks.
Siding, trim and roofing will continue to be installed.
1/12/17
Hardy siding is going on new building
Windows are almost all in place
Inside framing is almost done
Insulation going into the walls this week
Sheet rock will start to be installed next week
Electrical & plumbing is almost finished
NH Fire sprinkler is done on the interior
First section of sidewalk is in place (under tent)
Some of the new cases for existing store will arrive Jan. 19th
12/20/16
Hardy panels (siding) starting to be installed. Receiving area will be first to get siding.
Windows are here and will be getting installed soon.
Finishing interior framing
Roofing is slowly getting done – winter conditions. TPO is getting put on one piece at a time (roofing)
Freezer and beer cooler are on site.
12/8/16
New addition: Cold Roof Installed, TPO installation slated for next week.
Window installation next week. Hampshire Fire working on sprinkler installation.
Plumbers are running the refrigeration line.
Exterior Insulation (Roxul) is ongoing (walllashing in process).
Rough framing at mezzanine complete. CFW shutdown in the next two weeks.
Window flashing in place mockups next week.
Steel: Pavilion, Stair, Railings next week.
Loading dock in service.
Environdry in process.
Site work: Sidewalk will be tented and poured in December.
Existing Building: Lighting will be coordinated with Ed
11/23/16
Framing of interior walls continues
Plumbing is getting roughed in
Temporary lights are in
Nicom will finish enviro-dry on  exterior walls
Roof panels (SIPS) will be complete
TPO roof will be done
Temporary heater will arrive next week
Heat will be introduced to new building soon
11.10.16
Framing store walls ongoing
Enviro protection sprayed on exterior walls
SIPS panels (roof) arrive 11/10
Paving 11/10
Curbing is finished
Mezzanine and sidewalks concrete will be poured
Bumpers will be put on the loading dock
SIPS panels installed
11.03.16
Galvanized steel up and cedar posts being cut and sized for final placement.
The mezzanine will be poured next week.
SIP roof will go up November 8th
Sidewalks will be placed next week (grade 1 day, pave 1 day).
Community center slab will be poured with the sidewalk.
Loading dock: Propane tanks are in position & receiving area will be available soon!
Existing building: planning begins for interior lighting
10.27.16
Paving of the new parking lot starts Nov. 1st and will continue throughout the week. *Expect increased truck traffic in the parking lot during the pavement process.
Sidewalks, patio, café, mezzanine, and compactor concrete work will be completed.
Store walls in progress, roof will arrive Nov. 8th.
The receiving area will have a roof installed on Nov. 1st!
New loading dock & receiving room will be operational mid November.
Heat will be introduced to the new building, once totally enclosed!
10.17.16 Expansion Update
Steel construction is complete
Main slab, 2nd floor slab, & compactor slab will be poured this week along with patio and sidewalks.
Trusses for main roof arrive this week
Storm drains, retaining wall and final grading done in receiving area.
Base coat of pavement will be done by Nov. 1st
Receiving area should be usable for deliveries on Monday 10/24
9.29.16 Expansion Update
Loading dock foundation and grading in process.
Footings are complete.
Steel to arrive at the end of this week and will be going up for the next two weeks.
Concrete slabs to be poured in two weeks.
Prepping patio and sidewalk in the next two weeks.
9.20.16 Expansion Update
Foundation walls and pier foundations are complete at the new addition and pavilion.
Underground work is almost complete. Backfilling and grading is in process
Work at the loading dock area has begun.
Steel will arrive on site next week.
9.1.16 Expansion Update
Foundation walls are complete at the new addition
Underground work continues
Foundation walls will be back filled
Steel on site after Labor Day and steel erection later in the week
8.23.16 Expansion Update
 Site excavation is underway
Foundation is being created
Foundation footings are being set in place
The Cottage St. parking lot is being extended
What to expect in the future:
November – January indoor construction will be in full swing!
7.14.16 Expansion Update: Cottage St. Sidewalk ClOSED
ATTENTION WALKERS & Bikers: Starting July 25th through February '17  The Cottage St. Pedestrian Walk-way will be CLOSED for construction. Please visit our store via the Bethlehem Rd. entrance. Thanks for your understanding!
EXPANSION PLANS!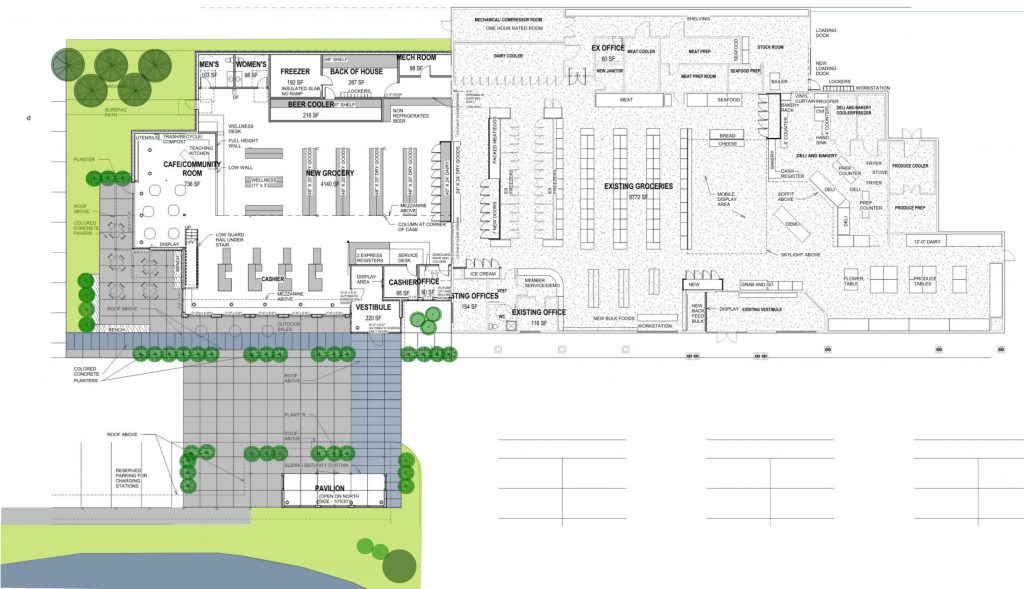 August 26th 2015 Community Meeting
Click HERE to view Gossens Bachman Architects Presentation
Letters to the Editor
In the News
April 2015 Member Meeting Power Point Presentation
NHPR article and interview with Ed King, General Manager