More ways to save with Co+op Basics!
Looking to stretch your grocery budget? So are we! That's why we're pleased to introduce our new Co+op Basics program. Co+op Basics offers everyday low prices on many popular grocery and household items. From milk to beef to cereal, you'll find new low prices on some old favorites. As time goes on we'll be adding new products to the Co+op Basics program including: coffee, grass-fed beef, natural chicken breast and whole chickens .
Don't worry, we aren't paying our farmers or employees any less. We're simply committed to improving our selection so that everyone can find more value when shopping the coop. You'll find more than 100 Co+op Basics items in the store. Just look for this sign: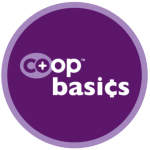 Co+op Basics… Find Your Every Day Low Prices here:
Coming Soon!
Download printable version here: List of Co+op Basics Items!
Don't forget to take advantage of these other great ways to save when shopping at the coop
Co+op Deals – our biweekly flyer focused on packaged grocery; look for this sign:
Bulk – save when buying just what you need; buy a pinch or a pound
Our Weekly Specials, which you can find here: Weekly Specials