August 2020

 Partner of the Month
Copper Cannon Camp is our August Partner!
Copper Cannon has served over 21,000 young people while consistently offering opportunities to New Hampshire's low-income youth, including experiencing the wonders of living close to nature and in a supportive community. Typically Copper Cannon holds one or two-week camping sessions throughout the summer, with 55 – 65 campers in each group. In the summer of 2019, enrollment reached 520 campers and they had been planning on exceeding that this year.
Unfortunately, times have changed for everybody. With social distancing being at the forefront of our minds, many children struggle with feelings of isolation. Their dreams of playing at camp with s'mores, archery, a wonderful staff, and all those other great things are not possible this summer.
In the meantime Copper Cannon has been hosting virtual camps, starting with spring break camp. Over 60 youth, parents, and another dozen staff participated in different events, recreating the magic that has helped everybody get through these trying times.
The virtual camp is just one part, however! The Copper Cannon garden is in full bloom, producing fresh veggies for the Good Neighbor Food Pantry at Franconia Church of Christ. Improvement projects continue around camp as well, including important modifications to the basement of the dining hall so they can host Gale River Preschool in September.
Even without children on-site, Copper Cannon is preparing for the future when they can reopen to the children and families. They plan to continue a series of Teen Leadership Retreats during the school year, and are laying the foundation for the second annual Grandparents Camp for grandparents and the grandchildren they are raising.
Learn more about Copper Cannon Camp on their website.
About our Partner of the Month Program
Through our Partner of the Month Program, the Littleton Food Co-op sponsors a different local non-profit each month of the year. All of our Partners are locally focused, socially and environmentally responsible, non-political, and secular. Partners are chosen by our Members by popular vote, and each organization typically receives anywhere from $3,000 to $6,000.
We help to raise funds a number of ways:
Round Up: Customers paying with a credit or debit card may round up their purchases and the balance goes directly to the Partner of the Month.
Donation collection boxes with partner branding are placed at each register.
Messaging about our partners is included in our weekly e-newsletter, social media posts, on our website, and in our weekly newspaper ads.
Posters and flyers are displayed on our Community Board and around the store.
Opportunities to meet our members, including info tables, grocery bagging, and other events.
Meet the 2021 Partner of the Month Candidates!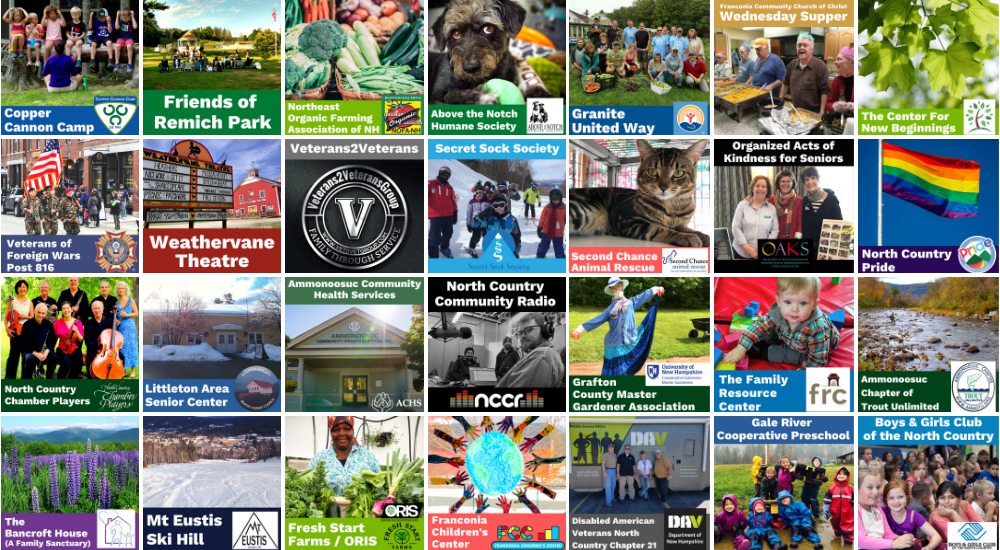 This year due to COVID19 safety measures we won't be holding our Partner of the Month Fair. However, we still want our Members to be able to get to know all of these great organizations so they can be informed when they vote for next year's Partners. We've posted information about each potential Partner on our 2021 Partner of the Month Candidates page, and you can read the full list below.
In 2021 we have eight openings for Partner of the Month, which includes the opportunity for in-store fundraising, awareness campaigns through the co-op's advertising, and our popular "Round-Up" donation program.
In order to support a diverse variety of causes we try to have at least one Partner from each of the following categories:
Recreational
Food Justice & the Environment
Arts & Education
Human Services & Social Justice
Animal Welfare
Voting will be held online from August 18 through August 25, 2020. Only full or partial Members may vote. Each Member may choose up to eight Partners per Ballot. If you are a Member and have questions or need assistance with voting, please contact Becky Colpitts at bcolpitts@littletoncoop.org.
The organization with the most votes will get first choice for their preferred month. The next organizations will choose their preferred month, in the order of votes earned. If any categories are not fully represented we will choose the most votes of a category for the remaining months.
In January, October, and November of 2021 we will be supporting the Healthy Food Access program, the Littleton Cooperative Community Fund, and area food pantries respectively. We are also reserving a month for Habitat for Humanity, since they graciously forfeited their April slot so we could raise funds for COVID-19 Relief.  In the event of an emergency situation that needs funding we will contact the Partner for the month to see if they are willing to forfeit Round-Up earnings for three days.
Please note that organizations may not be a Partner of the Month for more than 2 consecutive years, but are welcome to apply in the third year.
If you have questions about our Partner of the Month Program, please contact our Community Outreach Coordinator, Becky Colpitts, at bcolpitts@littletoncoop.org
Apply to Become a Partner! 
The deadline to apply for our 2021 Partner of the Month Program was August 1, 2020, and applications are now closed. If you're interested in finding out more about our program or would like to become a Partner, please e-mail bcolpitts@littletoncoop.org.
Important Dates
August 1: Due date for Applications from potential Partners.
August 1-18: Virtual Partner of the Month Fair – potential Partners will be promoted online and in our store.
August 18-25: Members vote online for 2021 Partners
August 26: 2021 Partners will be announced.
Partners must be a local 501(c)(3) non-profit, or under the umbrella of an established 501(c)(3) organization in the area. Please note that organizations may not be a Partner of the Month for more than 2 consecutive years, but are welcome to apply again after that.
---
2019 Partners
January: Healthy Food Access $2,165.82
February: Mt Eustis $2,662.53
March: Bancroft House $3,381.31
April: North Country Beekeepers $3,511.82
May: Believe in Books $5,183.36
June: Second Chance Animal Shelter $6,045.71
July: Boys & Girls Club $5,793.85
August: PRKR MTN Trails & Bethlehem Trails Association $6,453.65
September: Littleton Studio School $5036.99
September One-Day: NCG's Future Farmers of America
September One-Day: Twin Pines Cooperative Community Fund
October: Area Food Pantries $6707.28
November: Littleton Dog Park $5839.95
December: Adaptive Sports Partners of the North Country $6575.39