July 2020

 Partner of the Month
Littleton Dog Park is our July Partner!
Dog parks are great because they not only provide a place for pets to get exercise and stay healthy, they also act as a gathering spot for pet parents. While watching their furry friends play, the folks who visit the park have a chance to develop new friendships, discuss the goings on in the neighborhood, share recommendations for vets and local businesses, and build a sense of community. Dogs bring us together!
So far the Dog Park Committee has raised over $10,000, and they are continuing their grassroots effort to make this project a success. They have a really great plan for a possible layout (below) which includes a grassy area for pups to play, a drinking fountain for doggies, a picnic table area for friendly humans to socialize, and some really nice walking paths and shade trees. Right now they're working with the town to evaluate different plots that would fit their needs.
If you are interested in volunteering or donating to this project please reach out to Chris Wilkins, or visit their Facebook page for updates!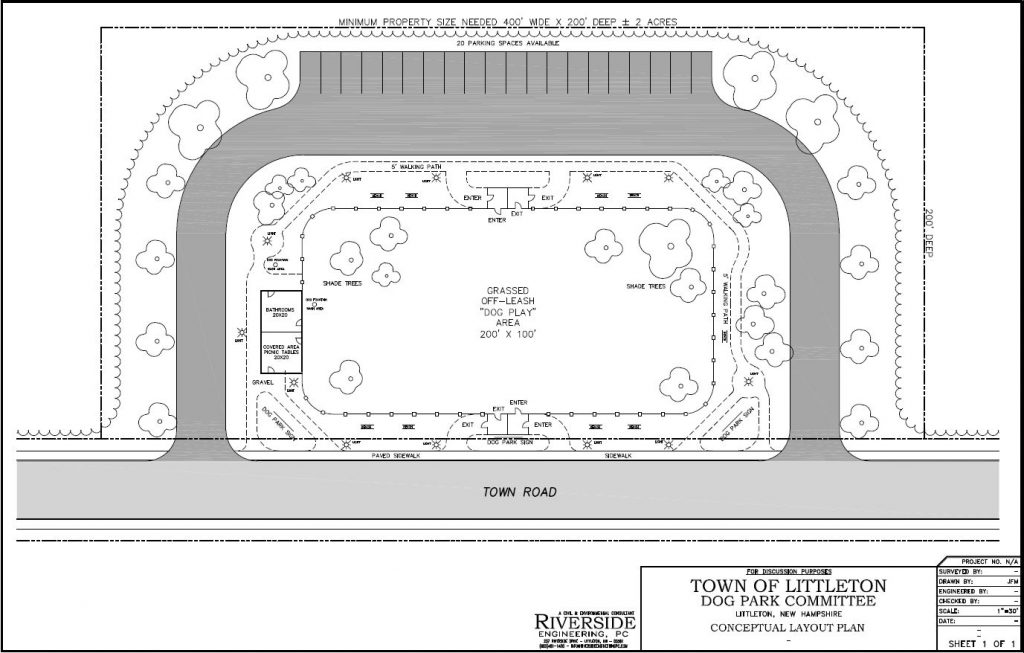 (click the image to view full size!)
About our Partner of the Month Program
Through our Partner of the Month Program, the Littleton Food Co-op sponsors a different local non-profit each month of the year. Partners are chosen by people like you — we host an annual Partner of the Month Fair in which member-owners vote for their favorites. We help to raise funds a number of ways:
Round Up: Customers paying with a credit or debit card may round up their purchases and the balance goes directly to the Partner of the Month.
Donation collection boxes with partner branding are placed at each register.
Messaging about our partners is included in our weekly e-newsletter, social media posts, on our website, and in our weekly newspaper ads.
Posters and flyers are displayed on our Community Board and around the store.
Opportunities to meet our members, including info tables, grocery bagging, and other events.
All of our Partners are locally focused, socially and environmentally responsible, non-political, and secular. The deadline to submit letters of intent is in early August. If you're interested in finding out more about our program or would like to become a Partner, please e-mail bcolpitts@littletoncoop.org
2020 Partners
January – Healthy Food Access Program
February – Believe in Books Literacy Foundation
March – North Country Beekeepers Association
April – Habitat for Humanity / Ammonusuc Region Granite United Way COVID 19 Relief Fund
May – White Mountain Mental Health
June – Adaptive Sports Partners of the North Country
July – Littleton Dog Park
August – Copper Cannon Camp
September – Disabled American Veterans / North Country Chapter 21
October – Twin Pines Cooperative Foundation
November – Local Food Pantries
December – Bethlehem Trails Association & PRKR MTN Trails
January 2021 – Habitat for Humanity / Ammonoosuc Region
The the full list of 2020 voting results are available here.
Partner of the Month Fair
In August we hold a Partner of the Month Fair, which gives our Members the opportunity to meet potential Partners and vote for which organizations we will partner with the following year.
We typically have nine openings for Partner of the Month, which includes the opportunity for in-store fundraising, awareness campaigns through the co-op's advertising, and our popular "Round-Up" donation program.
In order to support a variety of causes, the potential Partners each select a category for themselves – we try to have at least one Partner from each! Categories include the following:
Recreation & Environmental
Arts & Education
Human Services
Animal Welfare
Only full or partial members may vote. Each member will receive one Ballot, and members may choose up to nine Partners per Ballot.
The organization with the most votes will get first choice for their preferred month. The next organizations will choose their preferred month, in the order of votes earned. If any categories are not fully represented we will choose the most votes of a category for the remaining months.
In October, November, and January we will be supporting the Twin Pines Community Fund, area food pantries, and our own Healthy Food Access Program respecively. In the event of an emergency situation that needs funding we will contact the Partner for the month to see if they are willing to forfeit Round-Up earnings for three days.
Please note that organizations may not be a Partner of the Month for more than 2 consecutive years and are welcome to apply in the third year.
If you have questions about our Partner of the Month Program, please contact our Community Outreach Coordinator, Becky Colpitts, at bcolpitts@littletoncoop.org
---
2019 Partners
January: Healthy Food Access $2,165.82
February: Mt Eustis $2,662.53
March: Bancroft House $3,381.31
April: North Country Beekeepers $3,511.82
May: Believe in Books $5,183.36
June: Second Chance Animal Shelter $6,045.71
July: Boys & Girls Club $5,793.85
August: PRKR MTN Trails & Bethlehem Trails Association $6,453.65
September: Littleton Studio School $5036.99
September One-Day: NCG's Future Farmers of America
September One-Day: Twin Pines Cooperative Community Fund
October: Area Food Pantries $6707.28
November: Littleton Dog Park $5839.95
December: Adaptive Sports Partners of the North Country $6575.39