This recipe is from the Co+op Plus Deals March 16th – March 29th 2016 flyer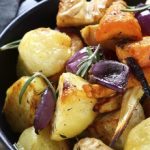 Servings

Prep Time

6

People

10

Minutes
Servings

Prep Time

6

People

10

Minutes
Servings

Prep Time

6

People

10

Minutes

Servings

Prep Time

6

People

10

Minutes
If carrots are large, slice them into halves or thirds. Toss the carrots, potatoes and shallots with the oil, salt and pepper, then spread on a large sheet pan.

Roast for 25 to 30 minutes, stirring once or twice.

Remove from oven, stir in the thyme and balsamic vinegar and return the pan to the oven to roast for another 10 to 15 minutes until the veggies are tender and browned.

Add additional salt and pepper to taste. Serve warm.
Serving Suggestion
These savory vegetables are a delicious accompaniment to nutty tempeh, turkey burgers or roast chicken. Or top a spinach salad with the warm veggies and a sprinkle of blue cheese. - See more at: http://strongertogether.coop/recipes/roasted-carrots-potatoes-and-shallots/#sthash.BbDZjcMM.dpuf