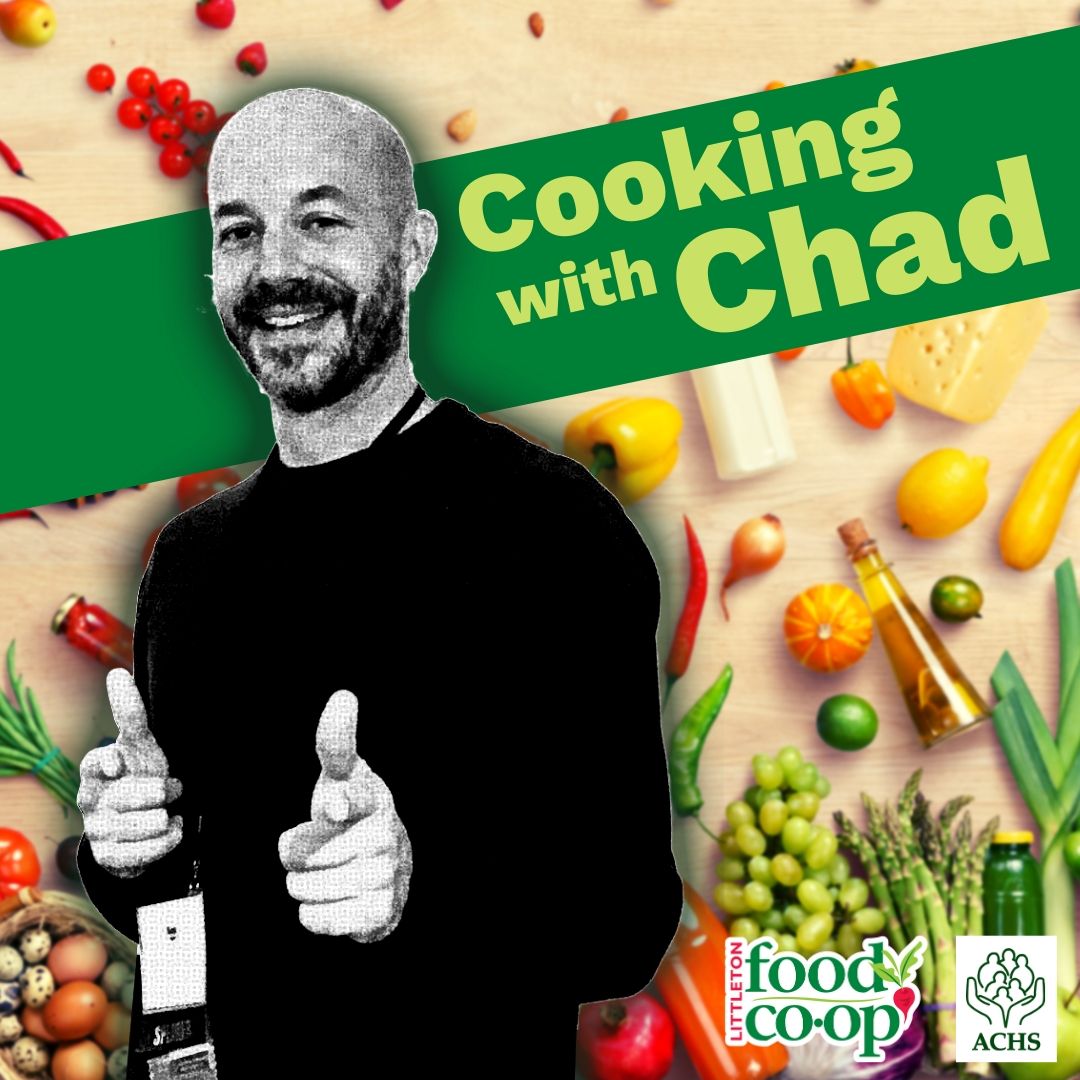 Please note: for the health & safety of our customers, we have decided to cancel Cooking With Chad for the months of March and April. Stay tuned for updates on later dates!
Nutritious, healthy recipes from ACHS and the Co-op Kitchen
The Littleton Food Co-op and Ammonoosuc Community Health Services (ACHS) are excited to announce a new food education series, "Cooking with Chad". Classes are free to attend and everyone is welcome. This new series will be filmed in front of a live audience each month and will be available for viewing online, featuring a a different theme and new recipes designed to combine the best of in-season foods and produce with good nutrition, ease and affordability. Taste testing is involved!
Chad Proulx, nutritionist from Ammonoosuc Community Health Services, will be presenting these fun, fast-paced, FREE sessions full of cooking, sampling, and of course, nutrition discussion. Each month Chad prepares a fresh batch of fun recipes, and takes us step by step through the process. Class is held right in the co-op using seasonal ingredients, making it convenient to try something new and pull together your grocery list!
Be part of our cooking show!
These workshops are free and walk-ins are welcome, but advanced RSVP is appreciated so we can have a headcount for class. Can't make it to class? Watch it online on PhlumeStream!
---
Featured Recipes
October 2019: Creamy Homestyle Turnips, Pink Lentil Curry, Pumpkin Pie Chia Pudding, Shredded Brussels Sprouts Salad
November 2019: Healthier Deviled Eggs, Pot Luck Picco de Gallo and Salsa, Chad's Bok Choy Salad, Chocolate Coconut Bliss Balls
December 2019: "Brain Boosting Recipes" – Muffin-Tin Quinoa Salmon Cakes, Spicy Lime Black Beans, Spiced Pears and Pomegranate, Warming Carrot, Ginger and Turmeric Soup
January 2020: "Heart Healthy Recipes" – Easy Overnight Oats, Homemade Falafel, Tender Greens in Garlic Butter Sauce, & Chocolate Mousse
February 2020: "Food for your Mood" –
---
Our Community Sponsors
Cooking With Chad is made in partnership with Ammonoosuc Community Health Services, and filmed by Phlume Media.
We'd also like to thank the following businesses and organizations for sponsoring our video series:
Woodsville Guaranty Savings Bank
Emma & Co. Consignment Boutique
Mascoma Bank
United Natural Foods, Inc.
Well Sense Health Plan
Cabot Creamery
Pete & Gerry's Organic Eggs