*This recipe is from the Co+op Deals Flyer for October 21st – November 3rd, 2015.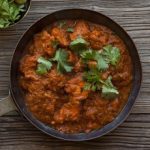 Servings

Prep Time

6

people

20

minutes
Servings

Prep Time

6

people

20

minutes
In a blender or food processor, puree the ginger, garam masala, mustard seeds, cumin, onion and garlic. Set aside.

Toss the pork pieces with salt and pepper. In a large Dutch oven or pot, heat 1 tablespoon oil and brown the pork pieces for a couple of minutes on each side. Remove the pork and set aside.

In the same pot, heat the remaining oil over medium heat. Add the spice onion puree to the pan and cook, stirring frequently, for 5-7 minutes. Stir in the wine, water, tomatoes and browned pork. Cover the pot and reduce the heat to a low simmer. Cook for about 40 minutes, stirring occasionally.

Remove from heat and serve over basmati rice, garnished with fresh cilantro.
Tip: Like most stews, leftover vindaloo is even better after the flavors have a day or two to meld, so save some for the next day's lunch.